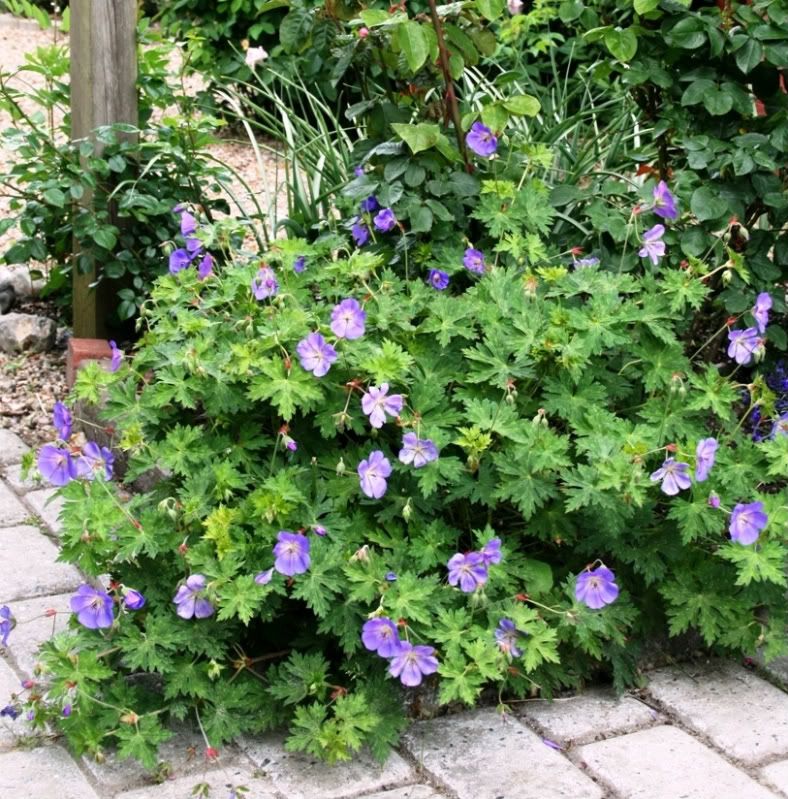 Remember the controversy about geranium
Jolly Bee and Rozanne
? It has often been speculated whether the 2 plants were identical! Both are found seedlings but Rozanne was introduced some years before Jolly Bee.
When I write geranium - I mean geraniums and NOT pelargoniums which are often confused in North America.
For some years I also had a hard time seeing any difference between G. Jolly Bee and G. Rozanne. But this spring the difference stands out. I moved a Jolly Bee Geranium and divided it into 1 big plant and 3 smaller plants. All 4 plants are doing very well. I could not have done this with G. Rozanne. They are still small plants compared to G. Jolly Bee. So I must conclude that the 2 geraniums are different and that G. Jolly Bee in my opinion is far superior to G. Rozanne.
- G. Jolly Bee is much more vigorous and compact than G. Rozanne
- G. Rozanne is more lanky and has a more trailing growth than G. Jolly Bee
- G. Rozanne has fewer leaves than G. Jolly Bee
- G. Jolly Bee produces more blooms than G. Rozanne
- G. Jolly Bee can be divided more often than G. Rozanne - due to the greater vigor.
I have no doubt anymore - I prefer G. Jolly Bee over G. Rozanne