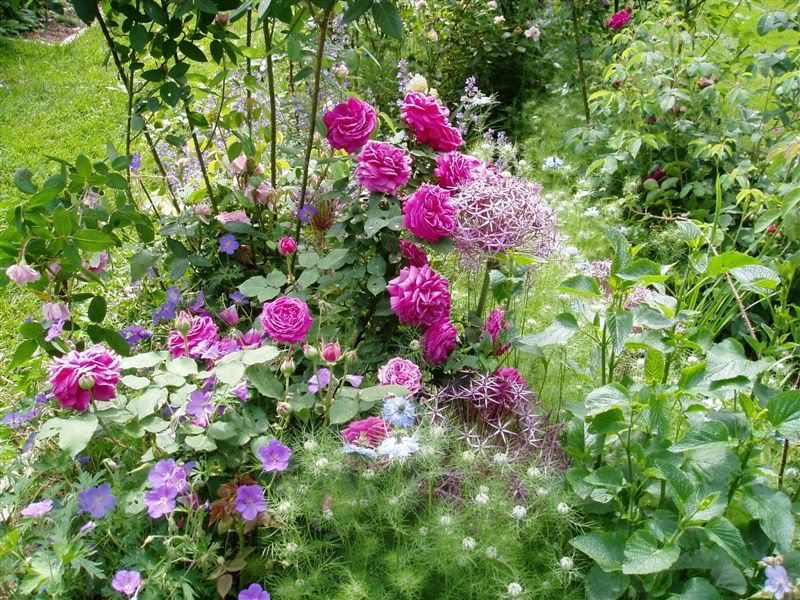 I have a preference for using roses in mixed borders - roses mixed with bulbs, perennials and annuals. I use companion plants with a long flowering time like hardy geraniums, nepeta and salvias. Plants like irises may not bloom long, but the spiky foliage add texture, even when they do not flower. Springflowering bulbs like crocus and tulips and fallflowering corms like gladiolus prolong the flowering season in the mixed borders.
I have chosen not to grow roses as a monoculture, and not use a mulch as ground cover to prevent weeds and retain moisture. I can do this because I live in a climate where we get plenty of rain and only need to water in May to August if it has not rained for weeks. I add a layer of compost, mushroom compost and aged manure in the fall. Many of the companion plants I use in the front of the borders, serve as an effective ground cover and help prevent weeds and retain moisture.
I use some annuals as fillers in the mixed borders. They fill out the spaces left behind, when I remove the bulb baskets. I don´t use many annuals. A few of my favorites are Nigella, Opium Poppies and various Lobelia and the very fragrant Matthiola Longipetala and heliotrope (an anual here). I start these as seedlings indoors early April and after being hardened off I plant them out, where I want them in the mixed borders.
Last year I saw Lori posted a picture of a combination of some of my favorite plants: Roses, hardy geraniums, Allium Christophii and Nigella. I already used this combination in my own garden, but I saw that using a little more Nigella created a very airy, dreamy effect. Very, very pretty! And great inspiration, that is easy to create in your garden. I prefer the blue flowered Nigella, but the white ones are also useful. Nigella is great to use in bouquets. Most often the seed capsules are used and they can be dried too. I prefer not to let them selfseed in the fall. It is possible to get Nigella to last longer, if you sow 4 weeks in between. Oh - and do get yourself some more of those pretty Allium Christophii next fall!
Hat tip to Lori for inspiring me (and hopefully you) to sow more Nigella. The rose in her picture is the bourbon rose; Madame de Sévigné, A repeatflowering old garden rose. Other roses I recommend using in this combination could be the Austin roses: Alan Titchmarsh or Princess Alexandra of Kent.